International style wrestlers have a rich history of Mixed Martial Arts domination. Daniel Cormier, Yoel Romero and Henry Cejudo are among the elite today in MMA's premier organization, the UFC.
In 2017, USA Men's Freestyle won six gold medals and a team championship for the first time since 1995. Assuming these elite few hold their spots on the world and Olympic team, many talented senior level studs will be left in limbo.
Some of these men will find their way into the cage, here are five with all the makings to be world champions at last.
Men's Senior Level Wrestlers With MMA Championship Potential
The impressive resumes of the competitors below will be proof enough for many that they can win at the highest level of mixed martial arts, already having mastered a transferable skill.
This list contains national champions, world team members, and those that have had great success competing internationally. In a sport filled with exceptional athletes and technicians, it is important to identify those whose styles will translate well. Let's take a look at a few guys who could be looking to make the switch.
5. Richard Perry, Light Heavyweight (205) Bloomsburg University (3x NCAA Qualifier)
In comparison to his peers on this list, Richard Perry does not stand out in his collegiate accomplishments. Perry hails from Connecticut, where he was fairly dominant in a region not known for high level wrestling competition. As a Division 1 wrestler at Pennsylvania's Bloomsburg University, he enjoyed great success during the regular season, earning top rankings on numerous occasions.
After floating around taking assistant coaching positions, Perry found himself training with Olympic Champion Brandon Slay at the Pennsylvania Regional Training Center. With a talented coaching staff, Perry became an instant freestyle threat at 86 kg (189.5). Although he has earned medals at major international competitions, Perry is most known to domestic fans for giving four time NCAA champ, Kyle Dake, a serious run for his money.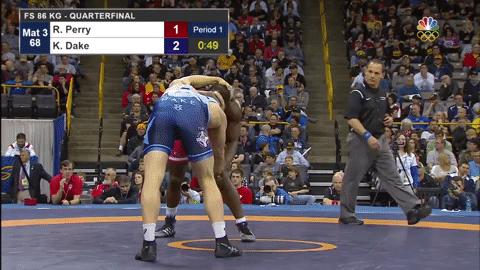 Pictured: Kyle Dake realizing he's in a match
Why MMA?
Despite his promising trajectory, Perry will have a tough time cracking the top ranks domestically at 86 kg. Quite frankly the speed and timing possessed by Richard Perry is perfect for MMA and it would be a shame if he never fulfilled his championship potential in sport.
The rhythm and tricks of Perry are reminiscent of wrestling legend and all time UFC middleweight great Yoel Romero. Like Romero, Perry will often lull his opponents to sleep, his hands and feet slow down, it appears he's just hanging on you, looking for a breather. Convinced a man his size would be pacing himself, world medal level competitors let their guard down and are promptly swept off their feet by a clean attack.
This speed would be best utilized at 185 pounds, or at 205 pounds where Perry would not have to drain himself physically with a weight cut.
4. Jordan Oliver, Featherweight (145) Oklahoma State (4th, 1st, 2nd, 1st), 3x National Team Member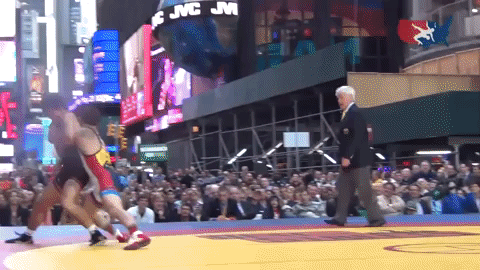 Jordan Oliver had one of the most illustrious folkstyle careers of the modern era. In high school, Oliver won three state championships in Pennsylvania, to this day the toughest wrestling state in the country, only losing in the finals as a freshman.
Oliver was recruited by the all time great John Smith to wrestle at the legendary Oklahoma State program, where he was a four time All-American, three time finalist, and two time champion.
In freestyle, the ex-Cowboy has trained with the Sunkist Kids club in Arizona, an environment that has raised hall of fame fighters Dan Henderson, Dan Severn, and Don Frye, to name a few. While Oliver was in the thick of things and making national teams up until 2015, his success has diminished in some ways in recent years.
Part of this struggle is consistency, including the decision to wrestle at his natural 65 kg (143 lbs) or up at 70 kg, where there is less of a cut.
Why MMA?
Most fighters only compete two to four times a year, taking weeks and sometimes months to strategically meet their target weight. Oliver would have no problems making the featherweight limit of 145 pounds, where at 5'8 he would be one of the larger competitors.
Oliver has flirted with starting a fighting career in the past, he would be one of many Oklahoma State alumnus to walk into the cage. Raised in Easton, there's no doubt the boxing great Larry Holmes has influenced pugilistic aspirations. Currently suspended and unable to compete in wrestling, it's as good a time as ever for a career change.
The style of Jordan Oliver is best described as strategic, recently he has been content to pick his spots and score points when he needs them, not for the sake of offense. When he does decide to attack, it is slick and efficient, Oliver is an extremely talented wrestler who knows how to execute in high pressure situations.
3. Nick Heflin, Light Heavyweight (205) Ohio State (5th, 5th, 2nd)
Perhaps the best freestyle "upper-body" wrestler in the country, Nick Heflin is a hammer, plain and simple. The NCAA run of the Ohio State Buckeye ended in dramatic fashion. With seconds to go, Heflin went big and threw future Olympic Bronze medalist J'den Cox to his back for the match winning takedown in the NCAA finals. Unfortunately, time had expired just short of a complete takedown and Heflin was left with silver.
Under the radar for years after his 2013 senior season, Heflin returned to the spotlight when he was seen bombing the country's best in freestyle at 86 kg.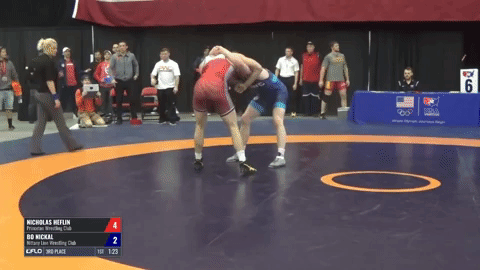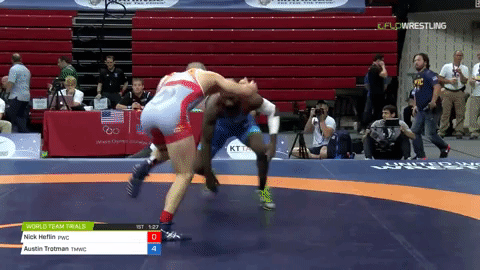 Pictured: Heflin's victims, including Penn State's throw-happy Bo Nickal
Why MMA?
The state of Ohio has a great fighting tradition. Ohio State has had its fair share of MMA greats, including the late Kevin Randleman, Mark Coleman, and more recently Lance Palmer.
Although he is currently coaching at the University of Oklahoma, it would be great to see Heflin fully unleash his upper body techniques in the cage, where it is legal and encouraged to put his opponent's health in danger.
2. Jimmy Kennedy, Lightweight (155) University of Illinois (4th, 5th, 5th), 3x National Team Member, 2014 World Championship Representative
It's absurd to say that a three time All-American is a late bloomer, but that's exactly the case for the Illinois native Jimmy Kennedy. At 133 pounds, Kennedy lived up to the hype of his illustrious high school career in Illinois, earning well over 100 collegiate wins.
It wasn't until the transition to freestyle, however, that Kennedy began to fully blossom. At 61 kg (134.5 lbs), he has made numerous national teams, winning the US Open and World Team Qualifiers in 2014.
More recently, Kennedy made the move up to 70 kg (154 lbs), where he defeated highly regarded, reigning NCAA champions Jason Nolf and Isaiah Martinez. Kennedy ended 2017 making the finals of the World Team Trials, and earning yet another national team spot.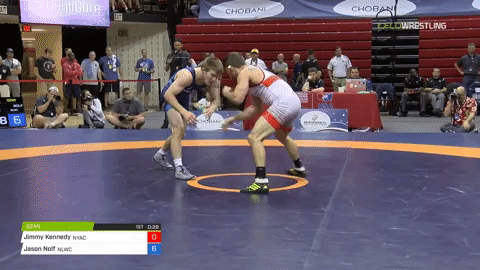 Pictured: Kennedy blasting through Penn State's Jason Nolf
Why MMA?
While Kennedy has had amazing success in both college and freestyle wrestling, a world level medal or championship has eluded him. The allure of world glory, and the money that may accompany it, could be enough to lure the 5'6 powerhouse to a title run at 155 pounds. At 29 years old, he is in his physical prime and there is no need for Kennedy to deplete himself cutting to 135 or 145.
Power and craft are the greatest weapons Kennedy could bring into the cage. With training, his heavy hands should be enough of a threat to really open up reactive double legs. If he can't finish in open space, Kennedy has the technical skills and pure man strength to keep any opponent with their back on the fence.
1. Nahshon Garrett, Bantamweight (135) Cornell University (3rd, 2nd, 5th, 1st)
Nahshon Garrett is an inspiration. The California native and his seven brothers and sisters were raised by only his mother, who struggled with substance-abuse for many years. In spite of this Garrett was able to win two state titles in California, known for its enormous tournaments and tough competition. To top it off Garrett attended the auspicious Cornell University, where he had great success.
Juggling an Ivy League education and a complicated personal life, Garrett became a four time All-American, two time national finalist, and one time undefeated national champion his senior season.
Why MMA?
After Cornell, Nahshon Garrett moved to train with the Sunkist Kids club in Arizona. Competing against fellow All-Americans and national champions in almost every domestic match, Garrett has not yet won any major US tournaments.
Despite his mind for the game and explosive attacks, the subtleties of freestyle wrestling seem to be giving Garrett some trouble for the time being. Struggling in freestyle, perhaps Garrett will be filled with the fighting spirit of Arizona and make a run at a UFC title.
There are so many aspects of his game that make for a perfect fit. One of the best things to see in a wrestling for MMA prospect is the understanding of hand fighting and short offense. His senior season, Garrett was able to move and frustrate his opponents with ease with a combination of heavy hands and quick feet, often ending up in a go behind situation before the other wrestler could make a complete judgement.
In MMA, takedowns become their most effective when your opponent is considering multiple possibilities for your next move. Just like in wrestling, hands pushing and pulling in different directions, level changes and half shots all cause reactions that open up opportunities. For Garrett, this could be a slick sweep single or an explosive blast double.
With the addition of strikes and submissions, it's not hard to see Garrett's understanding of the fighting meta-game leading him to gold.